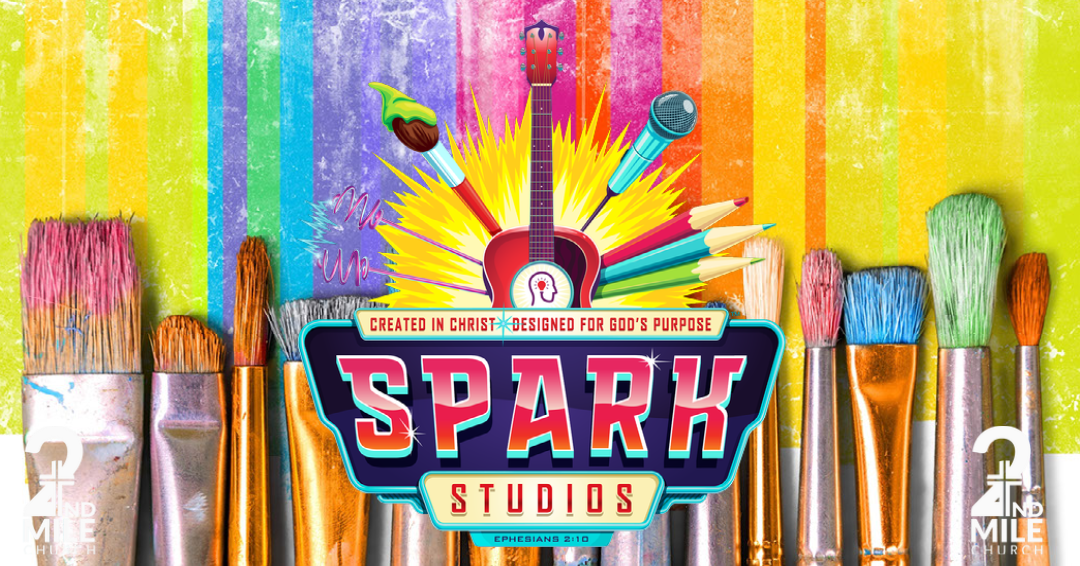 "For we are His creation, created in Christ Jesus for good works, which God prepared ahead of time so that we should walk in them."–Ephesians 2:10, HCSB
VBS IS COMING! KICK CREATIVITY INTO HIGH GEAR
VBS 2022 SPARK STUDIOS: WE ARE CREATED IN CHRIST & DESIGNED FOR GOD'S PURPOSE
Spark imagination and kick creativity into high gear at Spark Studios. In summer 2022, kids will learn that God's creativity didn't stop in Genesis. The Master Artist is working to redeem, reclaim, and transform us–His creation–to the design He planned for us. Kids will see the beautiful truth that they are God's workmanship as they learn to use their talents to bring glory to Him.
WHAT IS VBS?
Vacation Bible School (VBS) is a fun-filled, spiritual adventure that focuses on Bible study and life application for children leaving kindergarten to leaving 5th grade.
WHEN IS VBS?
June 2nd, 3rd, & 4th, 2022
5:30-8 PM on Thursday & Friday (2nd & 3rd) and 9-11:30 AM on Saturday (4th)

VBS dismissal is at 11:30 AM Saturday and then entire families are invited to Outdoor Family Fun from 11:30-1 on Saturday.
WHERE IS VBS?
2nd Mile Church
804 S Riverside Drive
WHEN CAN I REGISTER?
VOLUNTEER REGISTRATION

Please note: Volunteers must be 2nd Mile church members or regular attendees and must complete a background check.
VBS 2022 BIBLE CONTENT: FATHER, SON, & HOLY SPIRIT
DAY 1, JUNE 2ND: God, the Creator & Designer
David praised God the Creator, and God prepared David to be king just as He uniquely designed us for His purpose.

"How countless are your works, LORD! In wisdom you have made them all; the earth is full of your creatures."–Psalm 104:24, CSB
"Humans do not see what the LORD sees, for humans see what is visible, but the LORD sees the heart." –1 Samuel 16:7, CSB
DAY 2, JUNE 3RD: Jesus, the King & the Redeemer
The people welcomed Jesus as king with palm branches, and then Jesus died and rose again, all as scriptures told hundreds of years before, as part of God's plan to save us.

Psalm 118:26
Acts 13:21-23
Matthew 21:1-11
Luke 23:13-25 & 44-56
Luke 24:1-12 & 35-49


"Hosanna to the Son of David! Blessed is he who comes in the name of the Lord! Hosanna in the highest heaven!" –Matthew 21:9, CSB
"He also said to them, 'This is what is written: The Messiah will suffer and rise from the dead the third day.'" –Luke 24:46, CSB
DAY 3, JUNE 4TH: Holy Spirit, the Helper
God sent us His Holy Spirit, Who helps us follow God's plan.

Acts 1:4-14

"But you will receive power when the Holy Spirit has come on you, and you will be my witnesses in Jerusalem, in all Judea and Samaria, and to the ends of the earth."–Acts 1:8, CSB